Courtesy of BCA, Colter Hinchliffe takes you through the first step towards making moves in the backcountry.
The only thing I saw that was controversial in the video was the fact that an airbag was included in the essential gear list along with a shovel, beacon, and probe.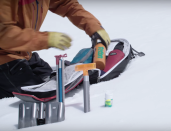 With all the new technology, is an Airbag Pack
an essential item in the backcountry today?
Get the goods without getting buried! BCA guide ambassador Lel Tone and BCA/TGR athlete Colter Hinchliffe talk about the essential avalanche safety and backcountry equipment every skier, snowboarder and snowmobiler should bring into the backcountry. Essential: avalanche transceiver, shovel, probe, avalanche airbag, and knowledgeable partner! Also important: two way radios, navigation kit, terrain photos, map and/or gps, smartphone, first aid, portable shelter and evac gear. Filmed with support from AIARE and The Avalanche Project.