Most of us have heard of Gazex Dragons by now but they aren't the only remotely controlled avalanche option in the game.  Above is a simultaneous detonation of 4 Wyssen Avalanche Towers in 3 Valley Gap, Canada. Wyssen Avalanche Tower use preloaded explosive charges (smaller footprint than Gasex oxygen and propane tanks) that can be deployed remotely:
"To trigger an avalanche, a coded command is sent from the control centre WAC.3 to the control system of the deployment box to initiate blasting. The deployment box contains 12 prepared explosive charges, which can be individually deployed by remote control. When the explosive charge is dropped, two igniters are pulled and the explosion is set off after a time delay. The charge remains hanging from a cord at a pre-set height above the snow cover, which is completely dropped after blasting. To reload explosive charges the complete deployment box is lifted from the tower by helicopter and brought to a station building or warehouse respectively."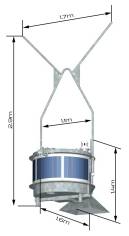 Here's a bit more on Wyssen Avalanche Tower systems, for complete info please visit their website HERE. 
The greatest degree of success for controlled release of avalanches is achieved by a remote-controlled detonation of an efficient explosive at the right time and in the right place:
From the operator's point of view, a blasting installation must be extremely reliable and effective as well as being simple to operate and maintain. The installation in the terrain must be as simple as possible and the interference of the installation must have a low impact on this sensitive environment. The Wyssen avalanche tower fulfils these requirements ideally.
Smallest residual risk thanks to the largest effective range
blasting above the snow with bigger charges (5kg) gives the maximum effective range up to 260m in diameter
explosives with high detonation speeds produce N-shaped pressure waves which has been proven to lead to the best release effect, particularly at a greater distance from the detonation point
the possibility of positioning the installation in higher locations in addition to suspending the charge higher enables the effect to be reached in locations of pressure shadow (in couloirs, behind terrain ribs)
release of smallest quantities of snow possible, thanks to the greatest effectiveness
very good stability test for assessment of the local avalanche danger
Maximum reliability
no critical or moving parts are exposed to the weather, thanks to its intelligent concept

the solar power supply or wind generator avoids the necessity of vulnerable supply lines in the terrain
Reduced closure times thanks to rapid release, around the clock and in all weathers
remote-controlled installations allow operation around the clock

very rapid operation possible

closure times are reduced in the rule to a maximum of 30 minutes

clearing away avalanche snow is usually dispensed with, since the avalanche run-outs are short due to the release of smaller portions
Highest cost-effectiveness
low investment and operating cost in comparison with permanent constructional protective measures

lowest operational costs thanks to its ingenious system concept

damage to the infrastructure is avoided by the release of smaller portions

economic benefits thanks to reduced closure times
Highest degree of safety for the operating staff
no staff in the danger area thanks to remote-controlled release

preparation of the charges takes place in protected areas

the mobility of the deployment boxes means that no maintenance is necessary in the terrain
The smallest interference in nature is very environmentally friendly
foundation only uses 1m2

short construction times in the terrain simplify planning and implementation

blasting over the ground prevents damage to the vegetation cover

dismantling after operating life possible without any problems