In 1970 Hunter S. Thompson would launch what would ultimately become one of the wildest bids for public office the law enforcement community has ever seen.
Related: 14 Mountain Town Bars You Must Drink At This Winter | According to Buzzfeed
Having recently moved to Woody Creek, CO just outside Aspen, Thompson believed he could inject what he referred to as an "honest freak" into a political environment full of underperforming frauds. That story is the subject of a new film titled, "Freak Power."
Immortalized by the indelible image of a six-fingered hand grasping a Peyote button, Thompson's campaign bid stood on a drug fueled platform that promoted legalizing all substances in addition to renaming Aspen "Fat City" in order to prevent other "greed heads, land-rapers, and other human jackals from capitalizing on the name 'Aspen.'"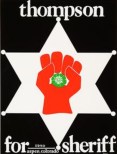 The new biopic will utilize the streets of Silverton instead of Aspen as an affordable backdrop that's more true to Aspen's 70's vibe than it is in 2017. The shoot will take anywhere between 6-9 weeks to complete reports The Durango Herald.
"The Old Guard was doomed, the liberals were terrorized, and the Underground had emerged, with terrible suddenness, on a very serious power trip. Throughout the campaign I'd been promising, on the streets and in the bars, that if Edwards won this Mayor's race I would run for Sheriff next year (November, 1970) … but it never occurred to me that I would have to actually run; no more than I'd ever seriously believed we could mount a "takeover bid" in Aspen." – Hunter S. Thompson (*Quote courtesy of The Atlantic)
It is still unclear as to who will play Hunter S. Thompson in the film. The godfather of gonzo journalism has previously been played by Johnny Depp and Bill Murray.
Find the entire Durango Herald article here: Silverton wins bid for new Hunter S. Thompson movie