Ski town cuisine is often separated into two categories– ramen fusion or upscale fine dining. A middle ground cuisine on the other hand can be damn near impossible to find.
Related: Top 10 Ski Town Pizza Joints
Enter Mexican food. Priced reasonably and boasting relatively good nutrition, tacos are a ski bum staple.
Here are the Top 10 Ski Town Taco Joints
10) Sanchez – Jackson, WY
Sanchez is straight up, classic Mexican food. And while the folks at Sanchez don't have the frills of Pica's (also very good), they are masters of tried and true Mexican fare. Tacos al Pastor and Torta Milanese are both favorites.
9) Jalisco Grill – South Lake Tahoe, CA
While good taco shops on the north end of the lake are hard to find, Jalisco Grill in South Lake Tahoe is awesome. They only take cash but the Pastor Nachos are worth it.
7) KB's – Hailey/Ketchum, ID

KB's claim that they have the best burritos in Idaho is 100% true. Get a shrimp burrito and decide for yourself.
6) Lone Star Tacqueria – Salt Lake City, UT

If you don't want to run into the strangers you rode Wildcat with earlier in the day, you may want to look elsewhere. But if you're looking to have an après beer and a taco out of the canyon– Lonestar is the spot.
6) La Cueva – Taos, NM
Obviously New Mexico makes the list and La Cueva in Taos is one of the best. While the fish tacos are ridiculously good, La Cueva makes one of a kind Tortilla Soup.
5) Tacos Nayarit, Durango
Four words. Queso Fundido With Shrimp. That's all.
4) California Tacos and Fresh Juices – Bellingham, WA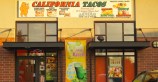 While the PNW may not be known for its Mexican food, if you're on your way to Baker, stop by California Tacos in Bellingham.
3) Taco Cabo – Steamboat Springs, CO
When a taco joint is occupying what used to be a gas station, you know it's really good. The crispy barbacoa tacos are amazing and the chili pequin hot sauce is a perfect match.
2) The Mad Taco – Waitsfield, VT
Some say that The Mad Taco is the best eatery in all of Vermont. The tacos are as simple as they are delicious.
1) Pepe Osaka's Fish Taco – Winter Park, CO

Pepe Osaka's Fish Taco is anything but your traditional Mexican food/ski town taco joint. In fact, the fish taco spot boasts Mexican-Asian fusion tacos that are unbelievably good. Don't believe us? Suit yourself…
Also Read: The Top 10 Ski Town Sandwich Shops