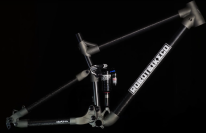 [All photos courtesy of Robot Bike Company]
People pay thousands of dollars for mountain bikes that don't fit them properly. It's one of the many pitfalls that comes with traditional bicycle construction involving molded frames that are as rigid as they are limiting.
By incorporating 3D printing technology via Renishaw, HiETA Technologies, and Altair ProductDesign, a group of aerospace engineers with a serious mountain biking addiction just launched a fully customizable bike based on the rider's height, weight, and riding style. Robot Bike Company is showcasing its R160 bike on the world cup downhill circuit and it's something to behold.
Related: The 10 Most Important Mountain Bikes of All Time
R160 Frame Specs
Recommended head angle – 65.5 degrees
Recommended seat angle – 73.5 degrees
Recommended chain stay length – 430mm
Recommended bottom bracket drop – 10mm
ZS44 – ZS56 headset
73mm threaded bottom bracket
ISCG tabs
31.6mm seatpost, stealth dropper compatible.
216 x 63mm shock
M8 x 22mm shock hardware
142 x 12mm rear axle
27.5" wheel size
Custom fit frame price –

£4395.00
About Robot Bike CO
Founded in 2013 by Ben Farmer, Ed Haythornthwaite, Andy Hawkins and Ben Robarts-Arnold, and in close partnership with of one of world's foremost suspension designers Dave Weagle, Robot Bike Co. is all about creating great mountain bikes, engineered and bespoke.
We design and manufacture lightweight, custom geometry, full suspension frames that are unique to you.
We use cutting edge manufacturing technologies because we know how and when to best apply them. Our design & engineering is grounded in years of experience in the cutting edge world of aerospace, F1 and automotive, and our DW6 suspension design has been developed and tailored in partnership with Dave Weagle to provide the ultimate suspension.
We've developed a unique construction technique which allows a design freedom for you to specify exactly the bike you want, and that fits just right. We have worked at the cutting edge of simulation, test and analysis to validate our frame performance.
And we're doing all this right here in the UK, designing and manufacturing our frames from our factory in the Wye Valley, Monmouthshire.
Find out more here: Robot Bike CO