[Cover Photo: Matt Crawley via Snowbird]
According to NOAA, a large and long lasting winter storm is set to affect Little Cottonwood and Big Cottonwood Canyons this week with up to 30″ for Snowbird and Alta by Thursday. 
This storm will be accompanied by strong south-western winds before snow begins to taper off on Wednesday evening. The peak of the storm looks to arrive on Monday and leave Tuesday afternoon, dropping up to 25″ in Little Cottonwood Canyon by Wednesday morning. Also, wind speeds are projected to reach up to 70mph!
Avalanche Danger On The Rise
Those winds are expected to be accompanied by significant snowfall. Backcountry travelers can anticipate the avalanche danger to rise rapidly. Check the Utah Avalanche Center forecast for updates on the state of the Utah snowpack and always #KBYG.
Top 5 Snowfall Totals For Utah
1) Snowbird – 30″
2) Alta – 30″
3) Powder Mountain – 26″
4) Solitude – 22″
5) Brighton – 22″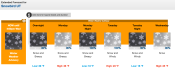 Winter Weather Advisory
WASATCH MOUNTAINS I-80 NORTH-WASATCH MOUNTAINS SOUTH OF I-80-WESTERN UINTA MOUNTAINS-WASATCH PLATEAU/BOOK CLIFFS-CENTRAL MOUNTAINS-
INCLUDING THE CITIES OF … WOODRUFF… RANDOLPH… ALTA… BRIGHTON… MIRROR LAKE HIGHWAY… SCOFIELD… COVE FORT… KOOSHAREM… FISH LAKE 1138 PM MDT SUN MAR 27 2016
…WINTER WEATHER ADVISORY REMAINS IN EFFECT UNTIL 4 PM MDT WEDNESDAY…
* AFFECTED AREA…THE WASATCH MOUNTAINS…WESTERN UINTA MOUNTAINS…BOOK CLIFFS AND CENTRAL UTAH MOUNTAINS.
* SNOW ACCUMULATIONS…1 TO 2 FEET…LOCALLY HIGHER NEAR AND NORTH OF INTERSTATE 80.
* TIMING…SNOW WILL DEVELOP SOUTH FROM THE IDAHO BORDER TONIGHT…SPREADING INTO CENTRAL UTAH MONDAY. THE HIGHEST RATES ARE EXPECTED LATE MONDAY NIGHT INTO TUESDAY…BEFORE DIMINISHING WEDNESDAY.
* WINDS…STRONG SOUTHERLY WINDS WILL EXIST TONIGHT INTO MONDAY AHEAD OF THE COLD FRONT…WITH RIDGETOP GUSTS EXCEEDING 70 MPH.
* IMPACTS…ALL MOUNTAIN ROUTES WILL HAVE WINTER DRIVING CONDITIONS… ESPECIALLY TUESDAY INTO WEDNESDAY.
PRECAUTIONARY/PREPAREDNESS ACTIONS…
A WINTER WEATHER ADVISORY MEANS THAT VISIBILITIES WILL BE LIMITED DUE TO A COMBINATION OF FALLING AND BLOWING SNOW. USE CAUTION WHEN TRAVELING…ESPECIALLY IN OPEN AREAS.