Norway had a fantastic season with many meters of snow falling in the mountains. May brought even more snow, leaving ski resorts buried in snow. If fact, ski resorts that are typically open for summer glacier skiing have been forced to remain closed due to too much snow!


Workers at Fonna ski resort in Norway had to dig 10-13 feet down just to find their T-bar this week…

Styrn ski resort closed due to heavy snowfall.
Towering mountains and Nordic climate makes skiing possible almost all year. The summer ski season officially kicked off at Styrn ski resort in Norway on May 28th, but the resort was forced to close yesterday due to heavy snowfall.
Stryn Summer Ski Centre is one of the most renowned summer ski resort in northern Europe, with generally excellent conditions.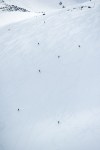 More snow is forecasted for the area on Sunday.