NOAA is predicting a 70-80% chance of a La Niña winter this year, and that means potentially more snow for some ski resorts! Before we dive in to our top picks for a La Niña winter, let's just quickly recap what that exactly means.
Here's the definition from NOAA:
"La Niña means Little Girl in Spanish. La Niña is also sometimes called El Viejo, anti-El Niño, or simply "a cold event." La Niña has the opposite effect of El Niño. During La Niña events, trade winds are even stronger than usual, pushing more warm water toward Asia. Off the west coast of the Americas, upwelling increases, bringing cold, nutrient-rich water to the surface.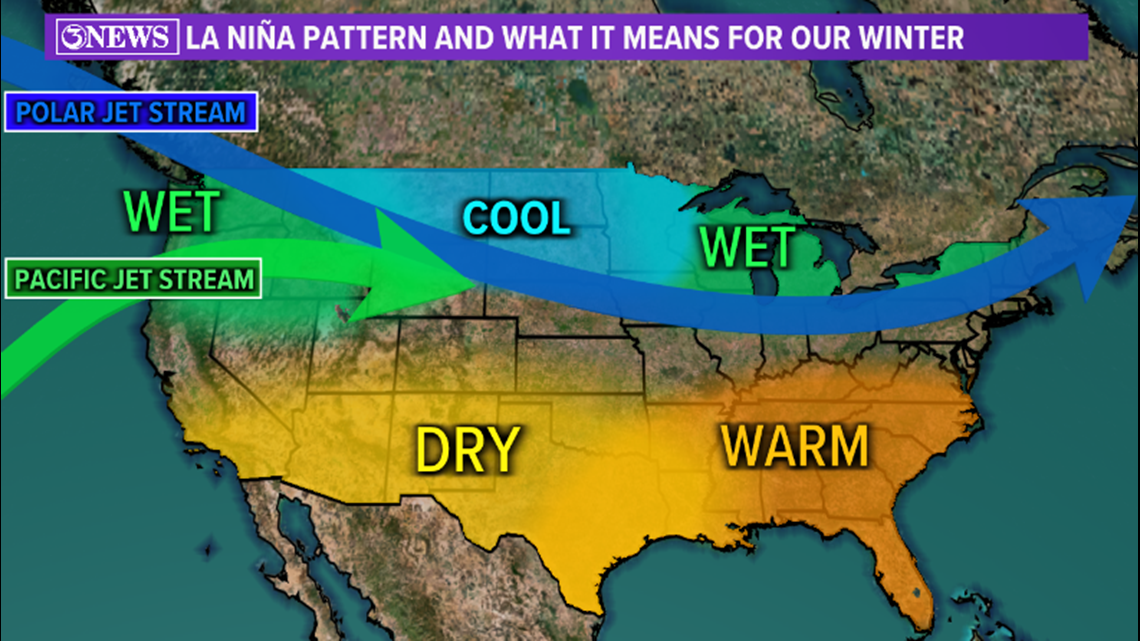 These cold waters in the Pacific push the jet stream northward. This tends to lead to drought in the southern U.S. and heavy rains and flooding in the Pacific Northwest and Canada. During a La Niña year, winter temperatures are warmer than normal in the South and cooler than normal in the North. La Niña can also lead to a more severe hurricane season."
Okay, now that we have that cleared up, let's dive into resorts that should see more snowfall thanks to La Niña this winter.
Remember, these are just predictions, but I think it's safe to say that these resorts should at least receive more than average snowfall totals this season!
Need I say much about THE Mt. Baker Ski Area? The legendary mountain typically receives one of the highest snowfall totals of any ski resort in North America on a normal year, but more moisture from La Niña across the PNW should mean a DEEP year for Baker.
Mt. Baker totaled the most snowfall of any ski resort in recorded history when 1,140″ of snow fell during the La Niña winter of '98-'99. The ski area totaled 704″ last season during La Niña . Will we see another banner year for the pride of the PNW?
Guess we'll have to wait and see!
You might start to notice a geographical trend here in our picks, and that has everything to do with more moisture heading towards the PNW during a La Niña winter. Who better to get absolutely dumped on than Timberline Lodge resting high up on Mount Hood?
Timberline has a higher summit altitude than the other ski resorts on Mount Hood, and therefore is our pick to benefit the most from a La Niña winter. Let's hope the Palmer snowfields build up a significant base heading into next summer so Timberline can keep the Palmer lift spinning well into August!
Schweitzer is a littler further east than the other resorts on this list, but it's relative northwestern geographical location could mean big snowfall totals this coming season.
The ski resort racked up 434″ of snow during the La Niña winter event of '18-'19, and 412″ in '98-'99. That's more than 100″ above their annual average. We'll keep our eyes on Schweitzer. Don't be surprised if they have an all-time season thanks to a La Niña winter.
Another consistent staple on the list of "Ski Resorts With Highest Annual Snowfall", Mt. Bachelor is poised for significant snowfall totals during a La Niña winter.
Bachelor totaled two of its highest snowfall totals ever during La Niña events. 606″ fell on the resort in '98-'99, and 665″ fell in '11-'12. Will we see the resort total over 600″ again this winter? Maybe… just maybe…
Mt. Shasta Ski Park is our "dark horse" pick for having a banner year during a La Niña winter. The small ski area rests in the shadow of Northern California's signature peak, and could benefit from heavier snowfall thanks to more moisture in the region.
The ski area averages 275″ annually, but we wouldn't be surprised if they end up with significantly more snow this season. The region could also benefit significantly from more snow as the current drought is devastating northern California. Oh yeah, Mt. Shasta is also on the Indy Pass!
Featured Inset Image Credit: FACEBOOK/Mt. Baker Ski Area