"It's overwhelming to know I was dead five days ago and I'm going to make it to my 40th birthday. There was angels on the mountain that day and those people were my angels."
This Vail skier was on death's door after a snow burial but was miraculously revived by a group of Good Samaritans. WKYC 3 reports Michael Laush was skiing at Vail on January 19th when he fell headfirst into 6 feet of snow. The heavy snow cut off Laush's circulation and for around 10 minutes he stopped breathing and didn't have a pulse.
A group of around 6 rushed to Laush's aid and began frantically digging him out. One of the rescuers, Karen Nern who is a Vail dermatologist, described the snow as like quick sand:
"Every time we tried to dig snow out, it would fall back into the hole."
The group was finally able to extract Laush from the snow pit and Karen Nern and another good Samaritan immediately started to administer CPR:
"He started breathing and his heart became roaring back into his chest."
Huge shout out of gratitude to Karen Coulton, Beth McCrann, Kyle Parker, John Lemar, Ian Monk, and Karen and Tom Nern for life saving efforts. Laush says there are more people to thank and his hoping he can soon. Hats off to the rescuers.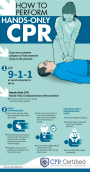 cpr infographic from www.cprcertified.com