The end of ski season is a sad event for diehard southern skiers.
So much so, that they feel the need to burn something, anything– even snow. According to 11 News ABC, North Carolina's Sugar Mountain hosts a "Burning Of The Snow" each year to signify the end of the season. The burn involves dumping a bunch of trash into a snowpit before lighting the snow on fire in what might be the most redneck thing in all of skiing.
This might be more redneck: Barstool Ski Racing
The tradition has been going on for roughly 20 years and the southern ski area's goal is to burn the snow/garbage during the last week of March. They didn't quite get there this year but don't think these southerners won't burn snow, listen to bluegrass, and get all kinds of weird on moonshine just because they didn't ski into April…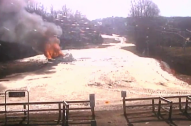 Hell right brother!
Find the entire "snow burn" video here: FEEL THE BURN- NC SKI RESORT SETS SNOW ON FIRE