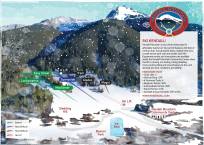 Kendall Mountain is perhaps one of the least publicized ski areas in Colorado. Often overlooked  in favor of the nearby Silverton Mountain as well as its more distant neighbors, Telluride and Purgatory, the small community ran ski hill on Kendall Mountain is a prized asset to the quaint mountain town of Silverton (*Population 650). However, a recent feasibility study shows that the tiny ski hill might be primed for a major development in the near future.
Currently the non-profit ski area offers just 240 feet of vertical drop, 4 runs and roughly 16 acres of terrain; all served by a single, old fixed grip double-chairlift.
Now there are new plans emerging from a town sponsored viability study by the SE Group, indicating that a tremendous increase in skiing on Kendall Mountain, and development of a bigger ski area, could be not too far off.
Silverton has become a buzz-word in big mountain ski and snowboard circles over the past decade, mainly for its niche extreme ski area, which also takes its name from the nearby town. Expert skiers and riders from around the world come to remote San Juan County each winter to experience the legendary steep terrain, and discount helicopter-skiing available at Silverton Mountain.
"In order to balance to the lift capacity, there would need to be about 100 acres of developed ski terrain. These are the cleared, groomed, maintained ski runs. In addition, there would be up to another 700 acres of undeveloped terrain that would be accessible off the lift network—glades, chutes, bowls, etc. Terrain would be developed to match the ability level distribution of the market, with the exception that there would be more advanced and expert level terrain, due to the nature of the natural terrain." – SE Group
Developing Kendall Mountain into a larger ski area, would help bring more revenue to the town of Silverton, while also providing more consistent recreation opportunities for local residents. The current study has presented 1 options for the ski area to expand to as much as 800 acres of terrain, but a smaller more likely model with 4-fixed grip chairlifts, looks to be an early leader.
Expansion Option #1:
Expansion Option #2

The study shows that with the capital improvements proposed in option #1, Kendall Mountain would need to do some 116,000 skier visits annually to keep the business model in the black. Option #2 would only necessitate 71k skier visits per year.
Both improvements call for expanding and adding lift served terrain, with some high altitude offerings as well.
Proposed Improvements:
4 Fixed Grip Chairlifts
Added Ski Terrain
Night Skiing
Improved Day Lodge
Parking Expansion
Multi-Seasonal Recreation Opportunities (zipline, alpine slide, biking, etc)
Find out more here: Kendall Mountain Ski Area