Sandwiched between announcements of unlimited skiing at Solitude, in Utah, and international skiing in Japan, IKON announced last week that they would be adding two northern Michigan resorts to their profile. BOYNE Mountain and BOYNE Highlands.
While lift ticket prices continue to skyrocket, prices on passes remain relatively stable. In an era where daily lift ticket prices at the top three Vail Resorts are nearing $200, and pass prices hover right around $1000, why would companies like Vail and Alterra continue to invest in an expanded Midwest footprint?

In Unofficial Networks' feature – the Ski Hill Shout Out, there's a line that hints at a reason why these companies valued in the billions care about resorts with 250 feet of vertical drop and 80″ of snow a year.
That said, many of us fell in love with the spectacular sport of skiing at smaller, local, hills that offered a more modest and affordable entry into the sport. 
The strategy isn't new. In fact, Vail Resorts did something similar when they purchased Mount Brighton and Afton Alps in 2012, as well as Wilmont in 2016. While the footprint of those three resorts combined is smaller than Mongolia Bowl, Vail listed an increased reach of 1.5 million skiers.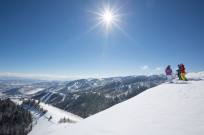 While many know about the storied history associated with Minnesota ski racers like Lindsey Vonn, few realize that the state of Michigan second in the country for total number of ski resorts. The average Michigan or Wisconsin skier will get a handful of weekend days each year, maybe a few more if they have a condo "Up North." It's enough to scratch the itch, but many of those skiers or snowboarders will also plan a long weekend or week to travel East or West to a mountain with a bit more snow and a lot more vertical feet.
With the cost of a three day ski weekend hovering between $4k and $6k, the Midwestern skier is actually more valuable to these large companies than your average Denver or Salt Lake City Resident. Those who fight the I-70 traffic or Canyon Crawl will spend substantially less per day when at a resort than our Midwestern cohorts.
Diversification is often cited as a reason Vail and Alterra continue their cold war arms race to acquire and add resorts to their passes. After all, none of us can be sure where it will snow this winter, so there probably is an aspect of protection against a bad winter in Colorado or California.
However, by continuing to add resorts to the EPIC and IKON passes, skiers often take a long weekend or week long vacation to see a new ski area. When EPIC added Utah, Colorado skiers drove straight past resorts to ski somewhere new. When they added Whistler Blackcomb, Salt Lake locals hopped on planes to Vancouver. Now that Alterra is in the same business, we'll continue to see winter sports enthusiasts travel to places with better snow, different terrain, or just to see somewhere new. At that point, everyone turns into those attractive "Midwestern" skiers, and Vail or Alterra get the full pie.