Life for a ski bum can be a simple routine. But after countless hours spent engaged in our preferred adrenaline activities, even the most hardcore guys and gals need to take mental breaks.
The daily grind of balancing fun extracurricular activities with our daily responsibilities doesn't often leave much time to dive into long novels. So in an effort to get excited for the approaching winter season while also recovering from that nagging MTB injury, why not curl up with a great book about our favorite pastime.
Sometimes the simple pleasure of getting captivated by a new book is the perfect break from watching the endless barrage of  ski and snowboard videos.

The snow sports film pioneer Warren Miller's is one of skiing's greatest ambassador and his 2016 memoir is a fantastic look into a life well lived. Any passionate skier will resonate with his tales of car camping in the early days of Sun Valley and working lousy construction jobs to pay for the next ski season. Although Miller is known to most for the film's he created throughout his life, his biography also does an excellent job of exploring how he came to fall in love with the mountains, while creating a lifestyle that allowed him to enjoy his hobbies foremost. Freedom Found is a story of inspiration and determination, that succeeds based on the notoriety of the author and the authenticity of his narration.
Hans Gmoser was well ahead of his time, when he began to develop what eventually would become commonly known as 'heli-skiing' in the Bugaboo Mountain Range of Canada. The opportunity to ride extreme powder terrain without any chair lifts in the most rugged of wilderness was a far-fetched dream, but was successfully developed into a luxury industry. The well written novel Bugaboo Dreams by Topher Donahue is a portrayal of how a daring pair of Austrian friends spent years mountaineering to understand and later plan the logistics of utilizing aircraft for downhill skiing. Bugaboo Dreams is a captivating look into the dangerous and unbelievable situations we expose ourselves to all in the search of a good time on snow, and a great read to stoke up any serious snow bum.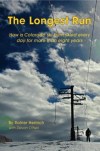 By Rainier Hertrich (2015)
A simple premise to ski every day consecutively, lent to a 8 year journey few people could ever imagine experiencing, for Rainier Hertrich a snowcat groomer from Copper Mountain, CO. In his story The Longest Run, Rainier describes how his lifelong affinity for skiing eventually created a monstrous record that may never be equaled. Chasing the snow across States, and Hemispheres without ever missing a 24-hour period, Hertrich recounts the amazing experiences and immense effort he went through to keep a dream alive. By the end of this quick read you will be rooting for Hertrich too, although the streak may be over now, this book is a wonderful introduction to a ski legend you just may not have heard of yet.