Brooklyn might not be the first place you think of when you think rock climbing, but Brooklyn Bridge Park will once again lay claim to the largest outdoor bouldering gym in North America. Last year, a New York based rock climbing company The Cliffs debuted a 7,800 square-foot outdoor climbing gym at Brooklyn Bridge Park dubbed DUMBO Boulders. Over 26,000 climbers used the DUMBO Boulders for the unique experience of bouldering on a wall while with views of New York's skyline.
To the delight on NYC climbers, The Cliffs has obtained a new five-year license to operate out of the space, and will officially reopen for the season this Saturday, April 15.
The daily admission fee for the gym is just $9, which includes rock climbing shoe rentals.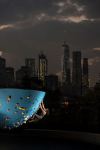 You can find out more on their website.