Cover Image by Bolton Valley, Vermont 
While the west lays out in the spring sun, the east is about to get clobbered by a powerful nor-easter that is set to deliver over a FOOT of cold snow by Thursday evening reports NOAA.
Related: Epic Alert Hoisted For New England | WHITE ROOM GUARANTEE!
The otherwise below average winter for the east is set to end on a high note with ski areas from Hunter Mountain, New York to Sugarloaf, Maine forecasted to receive upwards of 18″. The winner in this whole deal? Bolton Valley Vermont, which is forecasted to pull down 25″ by Thursday evening!
*The following snowfall totals were compiled using National Weather Service models.
3-Day Forecasted Snowfall Totals:
Maine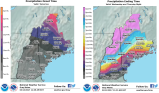 Mt Abram – 21″
Sugarloaf – 19″
Sunday River – 19″
New Hampshire
Wildcat – 21″
Bretton Woods – 20″
Cannon – 19″
Gunstock – 18″
Loon – 18″
Crotched – 18″
Mount Sunapee – 17″
Pat's Peak – 17″
Vermont

Bolton Valley – 25″
Jay Peak – 23″
Killington – 23″
Sugarbush – 23″
Mad River Glen – 23″
Smuggler's Notch – 22″
Stowe – 22″
Okemo – 22″
Burke – 20″
Magic Mountain – 18″
Mount Snow – 12″
Stratton – 12″
New York

Hunter – 23″ 
Whiteface – 20″
Plattekill – 17″
Belleayre – 16″
Gore – 8″
Massachusetts
Wachussett – 23″
Butternut – 14″
Jiminy Peak – 13″
Rhode Island
Yawgoo Valley – 12″