"Unforeseen Hazards May Exist. Experts Only"
That phrase, which skiers come into contact upon entering rad terrain, is not just referring to the sharks teeth lying precariously in the middle of the chute but instead refers to ski bum life in general terms.
Related: What Your Ski Poles Say About You As A Person | Ski Stereotypes [Part 2]
From bored housewives to "DOC," these hazards can make even the most seasoned ski bums cry icy tears of anguish. In order to avoid such shame, we've compiled a list of "Unforeseen Hazards" that all ski bums should be aware of– whether they've encountered them or not…
7 Unforseen Hazards Every Seasoned Skier Has Encountered
7) Bomb Holes
These little (sometimes big) holes in the snow can end a perfectly good line let alone perfectly good ski season. Avoid this by sending the biggest possible lines that no one else is skiing.
6) Flat-Light Mogul Fields
No matter how many times Dave "The Ripper" has traversed from one lift to the next, there will come a time when he heads across a seemingly harmless slope to find a Volkswagen sized moguls hidden by the flat light. While the mistake is never to be repeated, "The Ripper's" L-1 and L-2 vertebrae will never be the same.
5) Cougars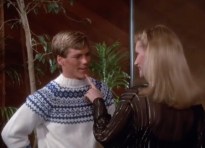 Ready to pounce, these middle-aged sassy pants are here to shake up ski towns and leave a trail of confused ski bum hearts in their tracks. Unfortunately for you, the husband eventually arrives and finds out that you've been keeping a close eye on his wife's assets without him knowing…
4) Rhinos
The male version of cougars, Rhinos are twice as obnoxious, smell twice as bad, and travel in packs. Their 70's gear is still covered in their own teenage sweat particles and the their lack of awareness is astounding. Still, that's not stopping them from hitting on your just-out-of-college girlfriend.
3) Death Cookies
Normally placed in the exact spot where a turn is needed, death cookies are the natural speed bumps of the ski world. Except these speed bumps are as unexpected as they are downright mean. Hit one of these bastards going Mach Schnell and say goodbye to your tib/fib.
2) Slope-Side Indigestion
If you've lived in a mountain town for more than 2 years, chances are your tummy has interrupted a powder day in slippery, really awful kinda way. For this reason, always carry a little bit of tissue or have your anus be subjected to pine branches and/or snow.
1) Dust On Crust
The infamous "DOC." Quite possibly the worst ski condition on the face of the earth with the exception of Sastrugi. Still, every seasoned vet knows how to manage the DOC with expert skill. Ways to avoid this hazard include, "staying in the trough" and/or "checking out the conditions on the north face of the bar."
Also Read: The Best Dirty Ski Joke Of All Time…