With a summit snow depth of 340″ and 430″ of total snowfall this season, Mammoth Mountain is already extending its season until July 4th!
Related: Top 20 Snowiest Ski Resorts In North America This Season [2016/2017]
The news comes on the heels of a massive December and January that saw multiple atmospheric rivers dumped over 25 FEET of new snow on the eastern Sierra ski area. All that snow has allowed mountain ops to keep every chair lift and gondola running with the exception of Chair 20 (lower mountain). All trails are open to the skiing public with the exception of a few terrain parks.
"Going til the 4th or longer." – Mammoth Mountain
Last year was the first time the ski area was open to the public on America's birthday since the 2010/2011 season. The resort made the announcement via their homepage saying they will keep spinning lifts "til' The 4th or longer." God bless Mammoth Mountain and God bless America!
[All photos courtesy of Mammoth Mountain's Facebook Page]
Daily Snow Report
"What a beautiful day it is. You can't really ask for much more. The sun is out and temps are looking to be comfortable. Get out there and take some laps on all this fresh snow we have received. Pow turns can still be found all over the hill and it's looking like the forecast is calling for a lot more snow starting at the end of this week. Enjoy the sunshine and beautiful days while they are here."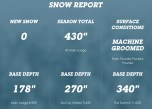 Find out more here: Mammoth Mountain