When it comes to skiing on storm days– there are a few pieces of gear that have the ability to transform great days into the "all-time" one's we tell our grand kids.
Related: Naked Optics Stays True To Its Brand By Using Nude Models
So instead of getting foggy goggles, wet hands, or something even worse– a dead phone, we've provided a list of the 5 must-have items for any and all powder days. Whether it's some reggae jams for that solo chair or a microfiber cloth to the keep those lenses dry, don't head to the ski hill without these items on your person.
5 Must Have Items For The ANY Powder Day
5) The Spanky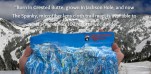 Leave that crappy little microfiber sunglasses pouch at home and pick up The Spanky at your local ski shop instead. The Spanky is basically an oversized microfiber cloth that comes with a built-in trail map. When it comes to snowy days, there's no better tool with which to wipe your lenses clean. Just never let it leave your chest pocket.
4) Skullcandy Ink'd Wireless

Instead of hassling with an annoying wire going inside one's ski jacket, up the neck, and around the face– these wireless earbuds from Skullcandy integrate perfectly with any buff + hat/helmet combo. Simply speaking, solo chairlift rides will never be the same again.
3) Smith I/OX Goggle W/ Low Light Lens

Is there anything worse than having bad visibility on the deepest of days? No there is not. Smith's I/OX goggle accompanied by low-light lenses might be the best eyewear to cut through low light and provide some definition to your fluffy surroundings.
2) Hestra Fall Line, 3 Finger Glove

By combing the benefits of gloves and mittens, Hestra created a masterpiece in their 3-finger, Fall-Line glove. Dextrous enough to grab your phone or buckle your boots but warm enough to keep your hands warm and dry– this glove is a WINNER.
1) Lifeproof iPhone Case

Tired of your iPhone getting covered with snow and subsequently shutting down due to cold temps? Spoiler: most people are. So instead of losing your chance at grabbing the next BANGER shot of your bro getting #SoPitted, grab a Lifeproof case instead.