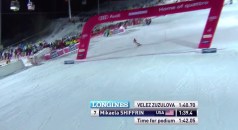 Mikaela Shiffrin said she's still looking for that perfect run and after winning three races in Semmering, Austria (2 GS, 1 Slalom), her competition better step up their game if they want to keep pace with the dominant American.
Related: Mikaela Shiffrin's Comeback Video Will Get You Fired Up!
Shiffrin's slalom win makes seven in a row for that particular discipline and her racing coaches are overjoyed to see her also winning in Giant Slalom. Even though she stumbled at the beginning of her final slalom race, she overcame odds to beat Veronika Velez Zuzulova by a mere .64 seconds, claiming the sweep at @Semmering.
"Every gate I thought I was giving it away… I felt like I was fighting and I'm proud of that. I was trying to ski fast and have some fun." – Mikaela Shiffrin, US Ski Team
With the three consecutive wins, Mikaela has cemented herself atop the female ski racing discipline with 798 points. Lara Gut is currently in second place with 583 points.
HIGHLIGHTS
Mikaela Shiffrin won the Semmering slalom by .64 seconds.
It was her third win at Semmering in three days: two giant slaloms and one slalom.
Shiffrin is one away from tying the record of eight-straight slalom wins held by Vreni Schneider (1988-89) and Janica Kostelic (2000-01).
Shiffrin has won the last 12 World Cup slalom races that she started.
Shiffrin also became the first racer since record-holder Schneider to win three tech races on the same hill within three days.
Resi Stiegler (Jackson, WY) and Megan McJames (Park City, UT) did not finish first run. Lila Lapanja (Alpine Village, NV) did not qualify for second run.
Shiffrin leads the overall World Cup standings with 798 points. Lara Gut is currently in second place with 583 points.
Find the entire US Ski Team update and video recap here: Shiffrin Sweeps in Semmering