For the skier that has it all or the skier that has nothing but likes to drink. The ULLR® 750ml could be a stand alone gift or the 50ml shooters would make excellent stocking stuffers. Its a 90 proof liquor with unique combination of peppermint and cinnamon.  Prices may vary depending on region but I found a 750ml for $21.49 at The Liquor Store and Wine Loft in Jackson Hole.
"He is god of snow, Son of Sif, step-son of Thor—he is ULLR®, the norse god of skiing. He is so fierce a bowman and ski-runner that none may contend! Just as it is good to invoke his name in duels, it is appropriate when you start a run, go off a kicker, or attack steep moguls. He is who you pray to for snow when the mountains are bare and pay homage to with libation at the end of a day on the mountain.
The unique combination of peppermint and cinnamon in ULLR® encapsulates the winter sports experience. Clear as melted snow, it starts out with a bracing peppermint flavor, but melts into a warm cinnamon finish. ULLR® can be enjoyed in a variety of ways—in hot chocolate, in coffee, or on the rocks, but it really shines served ice cold and straight up, preferably right out of the snow."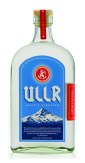 Check for product availability HERE.
[images from www.mikehouston.me & hrdspirits.com]