Businessmen, skiers, and conservationists are banding together to bring Saddleback Mountain back to life after its owners were forced to shut down operations last winter.
Related: Saddleback Mountain Needs Funding to Stay Open
The coalition, titled "The Saddleback Mountain Foundation" plan to place a downpayment of $2.2 million toward buying the 723 acre ski area from Irene and Bill Berry reports The Portland Press Herald. From what appears to be a second transaction, The New England Forestry Foundation is teaming up with The Trust For Public Land to purchase an additional 3,249 acres of wooded terrain surrounding the ski area that includes parts of the Appalachian Trail. A price tag or donwpayment requirement on that purchase has yet to be released.
"This is about the ecological significance and the recreational opportunity and the health of a working forest and the local economy." – Peter Stein, Saddleback Mountain Foundation Chairman (Quote courtesy of The Portland Press Herald)
The ski area ceased operations after its owners were unable to afford upgrading the 50 year-old Rangeley Chair– a move that they said was necessary to keep the ski area running. In order to remedy that situation, the Saddleback Mountain Foundation hopes to collect 4 million in fundraising over the next year with 1.8 million going towards capital improvements on the property.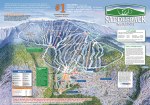 Mountain Stats
Vertical Drop – 1,660′
Annual Snowfall – 225″
Skiable Acres- 220
Snowmaking- 85% snowmaking coverage with unlimited water
Lifts- 5 (2 quads, 2 doubles, 1 t-bar)
Find the entire Portland Press Herald article here: Group of skiers, businesses agrees to buy Saddleback Mountain ski area