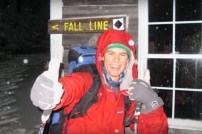 Ryan Hawks was a skier's skier whose positivity and energy was felt by friends and strangers just the same.
Related: Ryan Hawks – Our Fallen Friend
Since his untimely passing in 2011, Ryan's friends and family set up the Flyin' Ryan Hawks Foundation to help other adventurous souls by espousing the principles Ryan lived by. In partnership with the foundation and those principles, Long Trail Brewing will re-release the "Flyin' Ryan IPA" in order to raise awareness about the skier whose core principles affected so many.
"We can't wait to spread this brew – and the Flyin Ryan message – to a larger audience with this year's release." – Jed Nelson, Long Trail Brewing
The beer is set for a release sometime later this month and Long Trail will to continue to spread Ryan's message along with this beautiful IPA– all winter long.
Founded by the Flyin' Ryan Hawks Foundation, "The Flyin Ryan Decisions Program," takes South Burlington High School students through a four step decision-making process that embodies the core principles by which Ryan lived his life. So far, more than 700 students have participated in the project since its inception. 
Donate here: Flyin' Ryan Hawks Foundation