https://www.instagram.com/p/BLLs2ilDKfL/?taken-by=powder_daze&hl=en
Trying to drive over to Grand Targhee for the first turns of the season? You might want to wait.
WATCH: First Turns of the Season @ Jackson Hole!
Normally, Wyoming Department of Transportation officials won't close Teton Pass until avalanche mitigation is required atop Mt. Glory. This year, WYDOT closed Teton Pass due to snowy conditions on October, 5 2016. The closure comes after over a foot of snow fell at higher elevations in the Tetons, allowing for a few skiers and boarders to make the first turns of the season @GrandTarghee and @JacksonHole yesterday.
LET IT SNOW!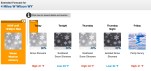 Photo Tour