A Winter Storm Warning is in effect for much of Southern Montana as a combination of systems will affect the southern portion of the state for the rest of the week reports NOAA.
Related: Utah and Idaho Under Winter Weather Advisory [Photo Tour]
The mountains surrounding Cooke City, Beartooth Pass, and Red Lodge should see the most snow but look for Big Sky to report significant snowfall totals as well as the week progresses. Also, Beartooth Pass is currently closed per the MTDOT website.
Beartooth Pass Closure (MTDOT)
BEARTOOTH PASS IS CLOSED FROM THE STATE LINE TO VISTA POINT. THE ROAD IS SNOWCOVERED, CURRENTLY SNOWING WITH POOR VISIBILITY AND BLOWING & DRIFTING.
LET IT SNOW!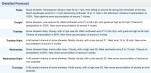 Winter Storm Warning
ABSAROKA/BEARTOOTH MOUNTAINS-CRAZY MOUNTAINS-
INCLUDING THE LOCATIONS OF…COOKE CITY 911 AM MDT MON OCT 3 2016
…WINTER STORM WARNING REMAINS IN EFFECT UNTIL 6 PM MDT TUESDAY…
* IMPACTS…HEAVY SNOWFALL WILL MAKE OUTDOOR RECREATION DIFFICULT OR IMPOSSIBLE IN THE HIGH COUNTRY. BEARTOOTH PASS WILL BE IMPACTED BY ACCUMULATING SNOWFALL.
* TIMING…SNOW…HEAVY AT TIMES…WILL CONTINUE THROUGH TUESDAY.
* SNOW ACCUMULATION…10 TO 15 INCHES…GREATEST ABOVE 8000 FEET.
* WINDS…WEST TO NORTHWEST GUSTS TO 40 MPH WILL CAUSE BLOWING SNOW OVER THE HIGH PEAKS.
PRECAUTIONARY/PREPAREDNESS ACTIONS…
A WINTER STORM WARNING MEANS A SIGNIFICANT AMOUNT OF SNOW IS EXPECTED OR OCCURRING. STRONG WINDS ARE ALSO POSSIBLE. THIS WILL MAKE TRAVEL VERY HAZARDOUS OR IMPOSSIBLE.