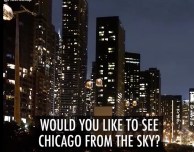 With the long proposal process underway, Chicago officials are now hoping to take the first steps towards building an aerial gondola above 2.5 km of the city's downtown.
Related: 7 Ski Lifts in Unusual Places
According to the Chicago Tribune, Laurence Geller and Lou Raizin of Choose Chicago recently introduced the idea to local politicians, bureaucrats, and businessmen saying that the new gondola would boost tourism dollars around the downtown area. Unlike other major metropolitan areas, the two visionaries believe Chicago is missing that hallmark tourist attraction enjoyed by cities such as London (The Eye), Paris (Eiffel Tower), and New York (The Empire State Building).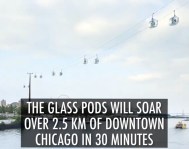 The newly built gondola would give tourists views of the Chicago River Walk and other downtown landmarks. Also, Geller and Raizin estimate that the new attraction could bring up to 1.4 million more tourists per year to the Chicago area. The estimated cost of the gondola? A whopping $250 million dollars.
Find the entire Chicago Tribune article here: Could airborne cable car boost Chicago tourism?