With snow already falling in places like Montana, Canada, and Colorado, it was just a matter of time before snow hit the Pacific Northwest. Turns out that snow will kick off the month of September for Oregon.
Related: 2017 Winter Weather Forecast | Long Range Prediction From NOAA
The summit of Mt Hood looks to receive a up to 4″ on the optimistic side of things but other areas including Mount Bachelor and Mount Jefferson should see significant bursts of snowfall at higher elevations.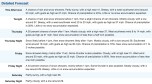 NOAA Statement
Freezing levels will drop across the area this weekend bringing a chance of snow to higher elevations. Accumulations of 1 to 2 inches are possible above 6000 feet…especially Friday and Saturday. Back country travelers need to be prepared for temperatures at or below freezing with the possibility of light snow accumulations.
Find the Timberline webcam here: Palmer/Silcox