500 acres burned. 2,000+ residents evacuated. And two Alabama residents are in cuffs as a wildlife in Boulder rages out of control reports NBC News.
Related: Scorching Summer Upcoming For The USA
Named the Cold Springs Fire, the wildfire is rapidly burning through huge stretches of forest near Nederland, Colorado and is 0% contained. The fire was started on July 9th at approximately 1:30pm.
In connection with the fire, police have taken two men into custody. The two men are 28 year-old Jimmy Andrew Suggs and 26 year-old Zackary Ryan Kuykendall both of Vinemont, Alabama. They are currently facing felony 4th Degree Arsony charges.
Currently there are 4 wildfires burning in Colorado that include roughly 27,000 acres of burned terrain!
Closed roads, evacuated homes, and burned hillsides are being left in the fire's wake and wildfire officials are barely holding the line. Michael Buell and Sandi Betters are just two of the unfortunate individuals who lost their homes and much of their lives to the wildfire.
Donate here: Michael & Sandi Cold Springs Fire
Married in 2013, the two both attended Nederland High before moving into the father of the bride's home. That home has now burnt to the ground.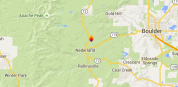 Find the entire NBC News article here: Two Men Arrested in Connection With 500-Acre Boulder, Colorado, Wildfire