Gone are the days of lost revenue among ski resorts in North America. In an era of P+L sheets, ROI, and projected annual growth, Vail Resorts is taking the bull market by the horns and turning its summer assets into profits.
Related: Vail Wants To Trademark "Park City"
On Tuesday of this past week, Vail came one step closer to realizing its summer dreams after Forest Service officials approved a $25 million dollar plan to enhance summertime opportunities at Colorado's largest ski area. According to the Denver Post, new summertime amenities will include zip lines, a mountain coaster, new trails, and a myriad of environmentally-directed educational opportunities.
"We are grateful for our continued partnership with the U.S. Forest Service leading to this positive change that will benefit our economy and our mountains." – Chris Jarnot, Vail Resorts COO (*Quote Courtesy of The Denver Post)
Those educational opportunities are the result of a blossoming partnership between Vail Resorts and the Nature Conservancy. In a recent press release, the Nature Conservancy expressed their enthusiasm for the partnership saying, "Together we're developing science-based information and activities that will foster a better understanding of how healthy forests help keep water sources clean and secure." Vail Resorts hopes the project will be completed by summer of 2017.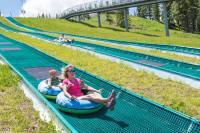 Proposed Improvements
Ziplines in Game Creek Bowl
3,700′ Alpine Coaster
Downhill and cross-country bike trails
Nature Conservancy Sponsored Education Centers
Hiking Trails
Find the entire Denver Post article here: Forest Service approves Vail's $25M summer development plan