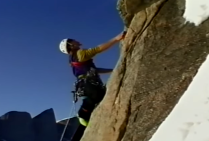 Alex Lowe was a climber's climber. When someone mentioned that Lowe might be the best climber in the world, Lowe would simply shrug and state, "the best climber in the world is the one that has the most fun." It was that attitude, spirit, and wisdom which will be remembered by his friends, family and the climbing community as a whole.
Related: Body of Deceased Climbing Legend Alex Lowe Discovered On Shishapangma
The Alex Lowe Charitable Foundation seeks to provide relief to those affected by the devastating earthquakes that struck Nepal last year.
Donate here: Alex Lowe Charitable Foundation
So in honor of such wise statements, here are our 5 favorite quotes from Alex Lowe.
5) "When you remove the risk, you remove the challenge. When you remove the challenge, you wither on the vine."
4) "There are two kinds of climbers, those who climb because their heart sings when they're in the mountains, and all the rest."
3) "I think climbing is less a sport and more a hobby, and as such, I think everybody's a beginning climber."
2) "Inspiring passion in family and friends has more enduring value than just staying alive for them."
1) "The best climber in the world is the one that has the most fun."