While progression is often referred to when talking about ski technology, rarely is the word associated with drinking.
That's all about to change…
Brought to us by Mancan– the 128 Machismo Kit provides outdoor beer drinkers with everything they need– A keg, a tap, and a gallon's worth of beer. The Mancan is perfect for pirate fills at the local apres spot, thirsty hikes, and most of all– Gaper Day. Also, partner up with your local brewery to fill up your Mancan with freshly carbonated beer every week!
The Mancan Could Save Your Life: Man Drinks 60 Beers & PEES His Way Out Of Avalanche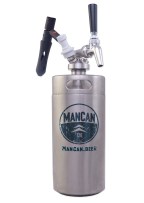 About The Mancan 128 Machismo Kit
Checking in with 128 oz capacity of awesomeness, the ManCan 128 Machismo Kit is our top-of-the-line system. We're talking high quality, 304 stainless steel and our Perfect Pour, 2-stage Regulator System. We're talking a gallon of fresh beer in an indestructible, travel-ready vessel. And check out that Machismo Tap on top…sexy, right? That's what the pros use but now you can pour like a boss every time, at home or on-the-go. All this and it fits in the door of your fridge. Keep your brews and beverages flowing fresh and carbonated 'till it's time to fill again. The ManCan 128 Machismo: always pour in style.
Buy one here: MANCAN 128 MACHISMO KIT