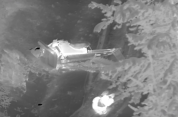 In a bizarre twist on "the boy who cried wolf," one snowmobiler is recovering from serious injuries he sustained while responding to a false avalanche report. 
According to NBC Montana, the snowmobiler's friends called the man in question, telling him that they'd been partially buried in an avalanche. Having no idea the report was a hoax, he proceeded to call 9-1-1 before rushing off in the night to their aid. However, as he drove his snowmobile, he failed to see a metal, forest service gate. Ultimately, he hit the gate hard with his snowmobile and was violently thrown to the ground.
Upon landing, the snowmobiler suffered serious injuries and was unable to make contact with any rescue personnel. Luckily, Two Bear Air Rescue was in the area searching for the avalanche incident when they located the ill-fated man a short distance away from his snowmobile at approximately 1:30am.
Also Watch: This Man is a Fake and a Fraud
The Two Bear Air Rescue team proceeded to extract the man from the scene and were later informed by the Missoula County Sheriff's Department that the avalanche report had been a hoax.
According to Karma, all those responsible for the hoax will experience debilitating ACL, MCL, and LCL injuries over the summer for their bullshit antics.
Find the entire NBC Montana article here: Snowmobiler severely injured in avalanche hoax