After a relatively dry spring for much of Colorado, a storm is finally on its way to Colorado and as of today, NOAA is forecasting Steamboat Ski & Resort to get up to 18″ by Tuesday!
That comes as great news for the Colorado, whose season started strong and seriously tapered off in mid February. As of right now Colorado is below their Snow Water Equivalent Media for this time of year and the following snowstorm should do wonders for a spring snowpack in the high country of Colorado.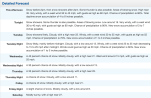 Winter Storm Warning
…WINTER STORM WARNING REMAINS IN EFFECT UNTIL 6 AM MDT TUESDAY…
* TIMING…SNOW WILL INCREASE BY MIDDAY AND BE MODERATE TO HEAVY THROUGH THIS EVENING…WITH SOME DECREASE LATE TONIGHT. LIGHTER SNOW WILL CONTINUE INTO TUESDAY.
* SNOW ACCUMULATIONS…8 TO 12 INCHES…LOCALLY UP TO 15 INCHES IN THE PARK RANGE NORTH OF RABBIT EARS PASS.
* WIND/VISIBILITY…WEST WINDS 20 TO 30 MPH WITH GUSTS TO 50 MPH. EXPOSED AREAS ABOVE TIMBERLINE COULD SEE STRONGER GUSTS TO AROUND 65 MPH.
* IMPACTS…MOUNTAIN ROADS WILL BECOME ICY AND SNOW PACKED DURING THE DAY MONDAY. TRAVEL WILL BECOME DIFFICULT OVER THE PASSES THIS AFTERNOON AND TONIGHT. BLOWING AND DRIFTING SNOW COULD ALSO SIGNIFICANTLY REDUCE VISIBILITIES CREATING HAZARDOUS DRIVING CONDITIONS.