After closing the mountain yesterday due to high winds and avalanche danger, Les Grand Montets opened its lifts after a short delay at approximately 9:45.  Over 70cm has fallen on the ski area since Friday and the mountains in the Chamonix Valley are finally coming into form.
The avalanche danger is still rated as 4 (high).
Since closing their lifts on Sunday, Les Grand Montets  received over 50cm of fresh snow, which provided for faceshots as well as core shots this morning. On the whole, it was consistent and knee-deep in the off-piste areas of the resort and quickly, bumps formed throughout the main piste sections. Rocks and hidden obstacles still exist and the trees below the top station of the Plan Joran gondola are still pretty shallow. Needless to say, Chamonix locals are stoked on the new snow and as of now it doesn't look to be stopping anytime soon.
Photos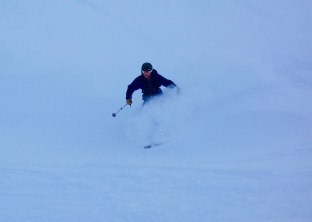 Stay safe out there!