That's correct, after one of the driest early seasons on record, a winter storm is slowly marching across Sugarloaf Mountain.
Related: Winter Weather Advisory For East Coast | Up to 24″ Forecasted!
Currently, NOAA is predicting that storm totals could be upwards of a foot by Wednesday morning. That is a total of 17″ if you count the 5″ that fell in the last week. Obviously, the east coast is stoked to finally get a real ski season going and this is a good start but means nothing if followed by temperatures like the ones we've seen all through December. Basically pray for ice and snow and anything but rain and warm temps.
Not to mention, the 'Loaf' has been blasting snow guns at every opportunity and has kept its slopes open since they opened on November 22nd!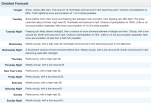 NOAA Winter Storm Warning
…WINTER STORM WARNING IN EFFECT FROM 4 AM TUESDAY TO MIDNIGHT EST TUESDAY NIGHT…
THE NATIONAL WEATHER SERVICE IN GRAY HAS ISSUED A WINTER STORM WARNING FOR SNOW…WHICH IS IN EFFECT FROM 4 AM TUESDAY TO MIDNIGHT EST TUESDAY NIGHT. THE WINTER STORM WATCH IS NO LONGER IN EFFECT.
* HAZARD TYPES…SNOW….MIXING WITH SLEET OR FREEZING RAIN.
* ACCUMULATIONS…SNOW ACCUMULATION OF 6 TO 10 INCHES…ALONG WITH AROUND A TRACE OF ICE.
* TIMING…SNOW WILL DEVELOP AFTER MIDNIGHT AND CONTINUE THROUGH TUESDAY….POSSIBLY HEAVY AT TIMES IN THE MORNING. THE SNOW WILL MIX WITH SLEET AND FREEZING RAIN TUESDAY AFTERNOON AND EVENING.
* IMPACTS…SNOW COVERED ROADS WILL MAKE FOR DIFFICULT TRAVEL.
* WINDS…EAST 10 TO 15 MPH.
* VISIBILITIES…ONE QUARTER MILE OR LESS AT TIMES.
* TEMPERATURES…AROUND 20 TONIGHT RISING TO THE MID 20S TUESDAY
AFTERNOON.
PRECAUTIONARY/PREPAREDNESS ACTIONS…
A WINTER STORM WARNING MEANS SIGNIFICANT AMOUNTS OF SNOW… SLEET…AND ICE ARE EXPECTED OR OCCURRING. STRONG WINDS ARE ALSO POSSIBLE. THIS WILL MAKE TRAVEL VERY HAZARDOUS OR IMPOSSIBLE.