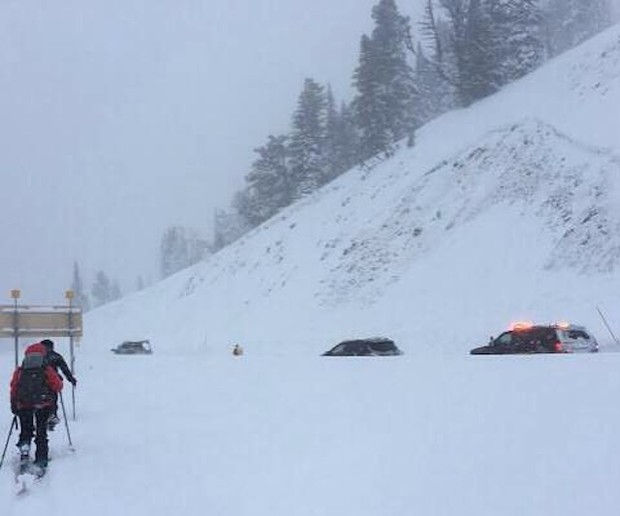 Photo from Bridger-Teton Avalanche Center.
On Wednesday a skier-triggered slide occurred just above Highway 22 on Teton Pass trapping three cars. The skier was most likely trying to exit the bottom of the Twin Slides route with the avalanche was triggered.
Highway patrol assisted in getting the vehicles freed from the debris.
"The road-cut at Twin Slide is one of the most critical spots along the highway when there is a ton of new snow. A slide there is guaranteed to hit the highway," said Linda Merigliano, the Recreation, Wilderness and Trails Program Manager for the Bridger-Teton National Forest. "More incidents like this could result in a much worse outcome for motorists or create pressure to close the Twin Slides run to skiing and boarding, similar to the Mt. Rogers area in Canada… this incident is a graphic reminder that access to skiing on Mt Glory is dependent on skiers/boarders exercising some responsibility and consideration for other people."
Image from: Bridger-Teton Avalanche Center photo.
If you find yourself in the Tetons this holiday break, please keep in mind that nearly 100″ of snow is sitting on a weak layer of faceted snow. This is resulting in slab avalanches of three to five feet in depth.