On Oct. 8th, the Moon will pass through the shadow of Earth for a total lunar eclipse. Sky watchers in the USA will see the Moon turn a beautiful shade of celestial red and maybe turquoise, too.
If you've been feeling a strong urge to howl lately, there's a reason why: A full "blood moon" is coming Oct. 8. Just check out the NASA video above.
A total lunar eclipse will occur early tomorrow morning making for the final "blood moon" of the year. It will be visible in the United States and Canada early Wednesday morning, with better viewing for those in the western part of the continent, as indicated in the map below.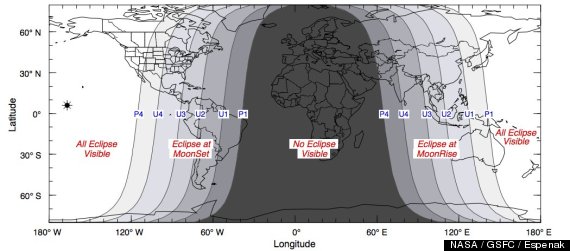 The full eclipse will start at 6:25 a.m. EDT and last until 7:24 a.m, according to NASA.
Full lunar eclipses are often called "blood moons" because of the reddish tint they adopt as sunsets and sunrises seen from Earth reflect onto the surface of the moon.
If you happen to find your self on the moon tomorrow morning look towards Earth where you will be able to see every sunrise and sunset in the world at once.

Image by Stanimir G.Stoev via Shutterstock