"The powerful Blue Light sitting on top of the Historic Baxter Hotel flashes whenever Bridger Bowl receives 2″ or more of new snow in the past 24 hours. Now that's when you know you're in a real ski town!"
Did you know that for the past 40 years Montana's historic Hotel Baxter in downtown Bozeman has been flipping on a beacon every time it snows at Bridger Bowl so the townspeople can easily identify a powder day? It might sound like a tourist gimmick but in the days before the internet, this little blue was a major asset for those looking for freshies.
Mountain Culture Magazine did a nice little article highlighting the old school pow signal where they spoke with Bridger's GM, Terry Abelin, and discovered the story of its origin. When Terry first started in 1980, the snow phone was the only way locals could learn if fresh snow had fallen at the resort located 20 miles away.  He and board member Bill Merrick met to chat about it one morning:
"He originally wanted to put up a billboard with a light. After a beer later that evening, we thought, 'Screw the billboard, we just need a light up high where everyone can see it.'"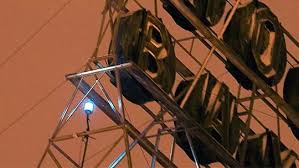 Merrick was on the board of directors for the local airport at the time, and he suggested a runway taxiway light about 15cm tall, blue, and visible for miles. The Hotel Baxter was the perfect location for the light, standing 5 stories tall and visible from all directions.  The pair asked and received permission to hang the blue light on the side of the sign's framework, where it still resides today:
"Merrick ran the wiring to a telephone switch, and the rest was history. In early 1981, the light was operational and word was out for why it was there."
The snow light is still very much in operation to this day. When it snows, Bridger Bowl's snow reporters operate the light remotely via a special hotline with a passcode and remains on for a 24-hour period. Such a cool little piece of Americana.
images from Mountain Culture Magazine