Whitefish Mountain Resort is one of the United States' last major under the radar ski areas. With an impressively large 3,000 acres of ski terrain and famous powder snow, its wildly fun Hellroaring Basin area is chock full of cliffs, steep lines and excellent tree skiing already.
Now with a new proposal to revamp the chairlift system and add runs, it seems the expert favorite area will only be more appealing to ski bums.
Specific proposals for the expansion include,
Move the existing Hellroaring Chair Lift (Chair 8). The new lower terminal location would be in the Grand Junction area and the new top terminal location would be near the entrance to the 1,000 Turns Run.
Install a chair lift (proposed chair 12) between the Grand Junction area and Hellroaring Peak.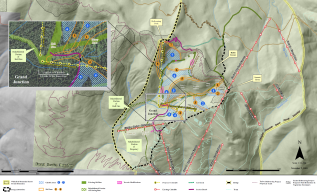 Clear eight ski runs and gladed areas adjacent to the ski runs.
Clear a "cat track" between the saddle below Hellroaring Peak to the existing Gray Wolf Run in order to provide winter access between these two areas for both groomers and skiers.
Re-slope three areas (approximately four acres total) in the existing Hell Fire Run where the run currently slopes uphill.
Rehabilitate the existing Purgatory Run under the existing Hellroaring Chair Lift and rehabilitate the portion of Hell Fire Run below Grand Junction, including five stream crossings.
The ambitious plan still has to gain US Forest Service approval, but Whitefish skiers and riders could potentially see the new additions in 5 years. A public comment period is open through November 20th.
Find out more here: Hellroaring Basin Improvements Project: Public Scoping Opportunity