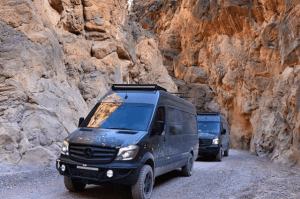 If you are interested in #VANLIFE but view converting and customizing a van as a hurtle rather than a fun creative project you should consider a conversion by Outside Van. This Troutdale, OR company sells a variety of ready to go adventure vehicles conversions but I'm most interested in their off-grid reconfigurable 4×4 Mercedes-Benz 170 EXT Van.
Life on the road can mean different terrain, different climates, different gear, so hopefully your rig is adaptable enough to keep up with your ever changing needs.  Thats whats great about this Outside Van Mercedes 4×4…if you want to haul a motorcycle or need to pack in a ton of passengers on a shuttle mission this cleverly designed van can suit your needs.
"Off-Grid can transform from our newly engineered three panel bed setup to our lightweight bunk bed system and even into a toy hauler. Options are endless because the van you need today may not be the van you need tomorrow."
"Outside Van brings adventure enthusiasts closer to nature by creating purpose-built vehicles that enable a life of freedom, joy, and connection. Founded in 2007, our vehicles enable you to travel off-grid, find your joy, and take the road less traveled.
Outside Van is based in Oregon, where our experienced team designs, builds and tests reliable, well-equipped, comfortable, customized vans that are ready for the most extreme conditions. We are motivated by people who build active lives around staying in the moment, and we inspire people to strip away complexity, leaving what's most important in life. See you on the outside."