At approximately 3:20am last night, an avalanche on Vail Pass hit three semi trucks but luckily– no one was injured in the slide.
Related: Colorado Could See Up To 3+ FEET At High Elevations By Friday
However, the morning commute just got a little more complicated. According to The Vail Daily, I-70 is currently closed in both directions but CDOT hopes to reopen the highway sometime before noon.
The area where the slide occurred is roughly 4 miles west of the summit in an area locals refer to as "The Narrows." Cleanup crews have indicated that debris piles are measuring up to 15′ deep in places. The Colorado Avalanche Information Center's danger rating for the Vail/Summit zone is currently marked as "HIGH."
CAIC Avalanche Warning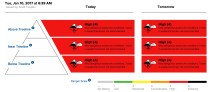 An Avalanche Warning is in effect for the Steamboat and Flat Tops, Sawatch, Aspen, Gunnison, Grand Mesa, Front Range, Vail-Summit, North San Juan, and South San Juan forecast zones. A powerful winter storm has brought heavy snow and strong, westerly winds to the mountains. Avalanche danger is currently HIGH. Natural avalanches large enough to bury or kill a person are very likely Tuesday. The avalanche hazard remains elevated with additional snow and continued strong winds into at least Wednesday. Numerous avalanches have already closed some mountain highways. Travel in or below avalanche terrain is not recommended during this warning period.
Find the entire Vail Daily article here: Avalanche closes Vail Pass in both directions