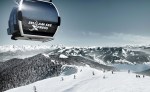 [All photos courtesy of Schmitten.at]
A ski area development of musical proportions is happening in Austria– right now.
Related: Ski Pass Merger Creates World's Biggest Area On One Lift Pass
In Zell am See, Austria, work is underway on a gondola that will connect the nearby Saalbach-Hinterglemm-Leogang-Fieberbrunn regions, amounting to more than 167 miles of piste. The area, which hasn't been accessed via lift for 36 years, is currently home to some of the best ski touring terrain in the Kitzbühel Alps.

The JukeBoxx
The extra-wide, extra-long zellamseeXpress is a gondola like no other. The As you fly up the mountain you can also pick your own music– that is if you find yourself lucky enough to load in one of these six, luxury gondola cars.
"Six Jukeboxx cabins promise instantaneous relaxation with your own music"
Titled the "JukeBoxx," these cars are equipped with WiFi, speakers, and an app that allows users to pick their own tunes.
Features
Free WiFi
JukeBoxx App allows you to pick your own music
Extra-wide, extra-long cabins
Although we had this idea just 4 years ago, we're gonna let this one go and hand over the credit to these innovative Austrians who continue to up the ante of lift accessed skiing.
* Cheers Austria!
Find out more here: zellamseeXpress