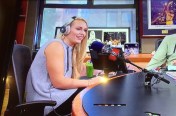 TWITTER FIGHT!
During a recent interview on The Dan Patrick Show, Lindsey Vonn made some disparaging comments towards snowboarders and in one instance went as far as to indicate that seperate ski areas might be a good idea for the two sports saying, "It'd be super great if we could have a little separation."
Related: Lindsey Vonn Thinks It Would Be "Super Great" If Skiers & Snowboarders Had Separate Mountains.
Since she made the comment, a wave of internet vitriol has risen against Lindsey that even includes fellow US Ski Team member, Julia Mancuso speaking out against Vonn's opinion. In a tweet, Mancuso said that Lindsey Vonn does not represent all skiers to which she added, "love my snowboarder buddies."
So a great deal got accomplished here… RIGHT?
Follow them on twitter here: @LindseyVonn and @JuliaMancuso