A winter weather advisory is in effect today for the Tetons, Salt River, and Wyoming Ranges with up to a foot of snow forecasted for the higher elevations.
Powder Alert: Up To 18″ of Snow Forecasted For Northern Rockies
As the day progresses, look for that snow to move towards the Continental Divide, leaving its payload on Togwotee Pass, Wind River Range, as well as the Bighorns. That same snow could be reason enough for the most diehard of Wyoming locals to go get the first turns of the year. Just be safe and make sure to be light on your feet people!
The summit of the Grand Teton could see up to 31″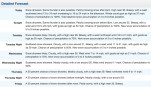 Winter Weather Advisory
TETON AND GROS VENTRE MOUNTAINS-SALT RIVER AND WYOMING RANGES- 242 AM MDT MON OCT 3 2016
…WINTER WEATHER ADVISORY REMAINS IN EFFECT UNTIL 6 AM MDT TUESDAY…
* TIMING…SNOW WILL CONTINUE TODAY WITH SNOW LEVELS DECREASING TO 7500 FEET.
* SNOWFALL…6 TO 12 INCHES WITH LOCALLY HIGHER AMOUNTS ABOVE 9000 FEET.
* WIND AND VISIBILITY…WEST TO SOUTHWEST WINDS OF 30 MPH WITH GUSTS TO 45 MPH ON THE MOUNTAIN PASSES AND EXPOSED RIDGES CAUSING BLOWING AND DRIFTING SNOW WITH VISIBILITY BELOW A QUARTER MILE.
* IMPACTS…HUNTERS AND CAMPERS SHOULD BE PREPARED FOR ADVERSE WINTER WEATHER. IT WILL BE IMPORTANT TO KEEP DRY AND HAVE ADEQUATE WINTER CLOTHING TO AVOID HYPOTHERMIA. TRAVEL DISORIENTATION MAY ALSO DEVELOP DUE TO DETERIORATING CONDITIONS.
PRECAUTIONARY/PREPAREDNESS ACTIONS…
A WINTER WEATHER ADVISORY FOR SNOW MEANS PERIODS OF SNOW WILL CAUSE PRIMARILY TRAVEL DIFFICULTIES. BE PREPARED FOR SNOW COVERED AND SLICK ROADS WITH LIMITED VISIBILITIES. SLOW DOWN, AND ALLOW
EXTRA TIME TO REACH YOUR DESTINATION. CHECK THE LATEST ROAD CONDITIONS AT WYOROAD.INFO OR BY DIALING 5 1 1. MAKE SURE YOU HAVE ADEQUATE WINTER CLOTHING AND STAY DRY. LET OTHERS KNOW OF YOUR PLANS…WHERE YOU PLAN TO GO AND WHEN YOU PLAN TO RETURN EITHER DRIVING OR HIKING.