With the sport of skiing becoming more and more intense every year, it's always good to remember that despite what happens (or doesn't happen) in the ski industry, skiing is still by far the weirdest sport in the world.
Related: 5 People All Ski Bums Hope To Share A Chairlift With
That said, it's also the most ridiculously fun sport in the world and for that reason, there is no reason to withhold that smile. Because in the words of a wise, old ski bum, "The best skier on the mountain is the one having the most fun." So by the transitive property, the person with the biggest smile is the best skier on the mountain. PERIOD.
The Top 5 Smiles In Skiing
5) Glen Plake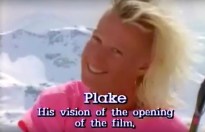 When Plake is feeling a little wiley (as evidenced in the License To Thrill opening), there's no better smile in skiing.
4) Doug Coombs
Coombs had the mid ski line smile down pat. Perhaps nobody since has emulated his level of stoke while mid-shred since his untimely death in 2006.
Help remember Doug's legacy here: Doug Coombs Foundation
3) Lindsey Vonn
There's just something about that toothy grin that makes most men melt in their ski boots. Vonn on the other hand remains cool as ice while bashing her way into world cup history.
2) Shane McConkey

Look at that mug! How can you not appreciate a man's smile when the vein in his forehead is that close to bursting? Shane was perpetually stoked on skiing and in the words of someone wiser than myself, "The people smiling are the people who have something to smile about."
Help remember Shane's legacy here: The Shane McConkey Foundation
1) TJ Burke
Nobody can resist TJ's smile– not Robin and sure as hell not Bryce Kellogg. With a smile like that, you can be a ski instructor, ski-journalist, and of course— the best skier on the mountain. 
Also Read: Where Are They Now? Aspen Extreme