Ullr is making his way into the western United States early this year as Montana is being added to the list of places to receive mountainous snowfall over Labor Day Weekend.
Related: Snow Forecasted For Oregon This Weekend!
The cold front will likely bring snow showers to the highest peaks across Montana with a focus on the northern reaches of Montana. The storm should turn snowy for those northernmost mountains sometime between Friday night and Sunday morning. Whatever the case, Montana will wake up to a beautiful sight when the weather breaks on Tuesday.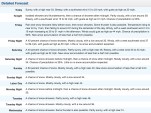 NOAA Statement
Are you ready for the return of fall-like weather? Because some BIG CHANGES are coming to the weather for Labor Day Weekend!
While details are still under evaluation, temperatures 30˚F cooler, breezy afternoon winds and a good chance for rain showers appear likely. And a secondary weather system coming into focus in the models for early next week *may* bring mountain snow into the picture! – NWS Missoula