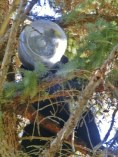 Retired Denver firefighter, current amateur folk singer, and full time badass, 66 year old Jim Hawkins of Glenwood Springs, Colorado wrestled a 100lb bear to free its head from a cheesy puff container according to The Washington Post.
The bear had been spotted around Hawkins' neighborhood but previous rescue attempts had been thwarted because the bear would run off before help could arrive. On Wednesday the bear walked through the backyard of a bed and breakfast that Hawkings owns:
"He essentially looked like he had a space helmet on. I decided the only way we'd save this bear's life was to keep him in one place until wildlife officers could arrive."
Somehow he managed to rope the bear with only a pair of work gloves as protection to keep it in place until the authorities arrived.  It was then that the bear turned on him and attacked:
"I thought he couldn't see very well out of that jar, but once he started coming at me, I could sure tell he knew where he was going."
The bear charged and the two wrestled on the ground for several minutes until the bear retreated up a tree.  Hawking then tied the rope to the trunk of the tree and waited for backup to arrive.
Colorado Parks and Wildlife officials darted the bear and lowered it from the tree. It was relocated 12 miles away and released. During the tussle he suffered some nasty looking wounds on his forearms that required stitches as pictured below:
During his career as a fireman Hawkings has been in many chaotic situations but he ranks this one on top. He saw it as a calculated risk to save the bear:
"I'm a 200 pound man. That's a 100 pound bear. This was a little bear with a big problem."
Hats off to 66 year old Jim Hawkins, the man who fought a bear to save its life and lived to tell the tale. Certified Badass.