Mammoth Mountain is reporting up to 3″ of new snow after a winter storm blew into the high mountains of the eastern Sierra last night. So far, video and pictures are showing decent accumulations near the summit and NOAA is saying the snow should continue till 11pm tonight.
Related: Mammoth Extends Season Through July 4th!
Bottomline, Mammoth is getting a much needed refresh that should give the ski area a much needed boost as they continue to strive skiing and riding on July 4th weekend.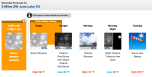 Winter Weather Advisory
…WINTER WEATHER ADVISORY REMAINS IN EFFECT UNTIL 11 PM PDT THIS EVENING…
* TIMING…THROUGH 11 PM TONIGHT.
* SNOW ACCUMULATION…2 TO 4 INCHES ABOVE 10500 FEET. ISOLATED LOCATIONS COULD SEE AS MUCH AS 8 INCHES OF SNOW. A DUSTING OF SNOW WILL BE POSSIBLE JUST BELOW 10000 FEET.
* MAIN IMPACT…RAPIDLY CHANGING WEATHER CONDITIONS FOR HIKERS IN THE SIERRA NEVADA ABOVE 10500 FEET MAINLY FROM SEQUOIA NATIONAL PARK NORTHWARD. HIKERS SHOULD PREPARE FOR WINTER LIKE CONDITIONS. PACIFIC CREST AND JOHN MUIR TRAILS WILL BE AFFECTED. COULD SEE AN IMPACT ON TIOGA PASS TRAVELERS.
PRECAUTIONARY/PREPAREDNESS ACTIONS…
A WINTER WEATHER ADVISORY FOR SNOW MEANS THAT PERIODS OF SNOW WILL CAUSE PRIMARILY TRAVEL DIFFICULTIES. BE PREPARED FOR SNOW COVERED ROADS AND LIMITED VISIBILITIES…AND USE CAUTION WHILE DRIVING.

Find more photos here: Mammoth Mountain Webcams