Mt Rose Ski Tahoe closes on May 8th and what better way to close out a stellar ski season than with 5-13″ of fresh on Friday.
"Winter continues at 8260′ and there are only 3 days left to get your turns in!"– Mt Rose Ski Tahoe
Right now, Mt Rose looks really good and although skies have cleared somewhat throughout the day, cloudy skies are keeping the snow intact.
The bad news?
It looks as though warmer weather and rain may affect the mountain in the days to come. That said, any and all spring precipitation is welcome before the summer hits.
Related: These North American Ski Resorts Are Still Open!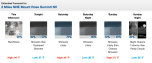 LET IT SNOW!