As of today, El Niño has left the building.
According to a NOAA sponsored ENSO report, equatorial temperature anomalies in the Pacific ocean have fallen to their lowest point in the last year. That "heat content" is usually the tell tale sign if an El Niño or La Niña to come. Currently the lack thereof shows that El Niño is most likely on its way out and right now there's a good chance we'll see La Niña effects during the 2016/2017 ski season.
Also Read: Could We See A La Niña For Next Season?
With the cooling of the Pacific, NOAA meteorologists are predicting a transition to neutral temperatures by this summer and a 50% of a La Niña phenomena by next winter.
"Most computer models are in agreement that La Niña (strength TBD) will develop by the fall."– NOAA Meteorologist, Emily Becker

However, even though temperatures have dropped in the Pacific, certain areas remain quite warm, which could result in lingering El Niño symptoms in places like the western United States. For drought ridden California, that news comes as a serious blessing.
If "Miracle March" continues to pan out and El Niño storms continue to roll through the Sierra, abundant snowfall could go a long ways towards ending the historic drought in California.
What Happened To The "Godzilla El Niño"?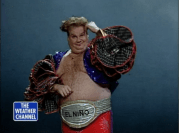 Looking back, NOAA meteoroligists admit that the phenomenon known as El Niño did not quite fulfill their models. Becker conceded that while the southeast was particularly rainy, "the precipitation impacts in North America haven't been quite as consistent with expectations so far." 
Examples of such variation include the massive winter Whistler and Mt. Baker are having despite being predicted earlier in 2015 to have warm and less than average precipitation during this El Niño phenomena.
That said, California has rebounded after four years of virtually no snow and with another 5 feet on the way, it's time for El Niño's last hurrah!
Also Read: Another Huge Storm Headed For California | Up To 5 Feet For The Sierra!
LET IT SNOW!