While most of the western United States remains dry as a high pressure ridge builds over Oregon, Washington is being left in the flow with Mt. Baker Ski Area looking to receive up to 49″ of snow throughout President's Day weekend. The storm is expected to come in today and last through Monday with the highest snow totals arriving on Friday evening.
As far as powder is concerned, we're betting that Saturday will have the best conditions as the snow is supposed to come in warm, get cold, and leave warm.
Currently, the The Northwest Avalanche Center indicates the avy-danger in the region is low but backcountry travelers should expect the danger to rise as significant loading occurs throughout the weekend.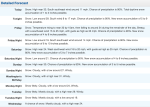 Find up-to-date avalanche advisories for the surrounding Mt Baker backcountry here: Northwest Avalanche Center